Well it's Tuesday night. I'm really tired. I didn't sleep very well (or much at all) the first two nights at APF, and the days were jammed packed with running to and fro and making my brain stay on top of my game throughout the day. By the time Lynn, Joel and I pulled up at the school building late Sunday night to unload, we were all more than ready to punch out and get some sleep.
I arrived home from APF around 8:30pm. At 9:00pm I laced up my running shows and hit the pavement to get my mile in. As fatigued as I was, it felt glorious to be out in the crisp evening air after being cooped up in a hotel building for the past four days. It was so quiet out – everyone else tucked into their homes for the night – the world seemed so still and peaceful. I cranked up the iTunes and enjoyed the complete solitude.
Monday – my day off. After working the past seven days straight, I needed Monday. I got up after nearly 12 hours of sleep, puttered around the house, finished unpacking, did some chores, caught up on some emails and finances, picked Katie up from homeschool co-op, went to the doctor to get my RLS meds RX renewed, went grocery shopping, and completely forgot that I needed to run a mile. At 7:00pm I remembered my commitment and took off down the street, getting 1.85 miles in before retiring again for the night.
So ya, the homeopathic remedies for RLS are not working. Not at all. After too many sleepless, restless nights, I resorted to taking my meds again. Ah, sweet glorious sleep! I got my RX renewed for another month. I'm not giving up on this holistic thing for sleep just yet. Actually my sleep doc and naturopath are both working with me to tweak things to find the most effective, least medicating, yet most cost effective way to actually get some sleep instead of pacing the room at night. As it turns out, it is expensive to buy a good night of sleep.
Today, Marc LeFleur and Melissa Verplank arrived in town to shoot some new footage for Learn2Groom. We actually begin the shooting tomorrow and will go into Thursday to capture some grooming as well as some business topics. This afternoon we hauled all of the camera equipment upstairs to the grooming room at the school and afterward, decided to take advantage of the upper 60s weather by walking downtown to catch a bite to eat. A perfect night to enjoy some outdoor seating and a tasty meal. Only it started to rain about 2 blocks into the walk. Bummer.  I dropped Marc and Melissa off at the restaurant and then hustled the ¾ of a mile back uphill to the school with Truman in tow. I put Tru in my office, quickly dried my hair, and then hopped in my SUV to drive back down to the restaurant where I met Marc and Melissa again, showing up just in time for the appetizer.
When I got home at 9:00pm my dear, sweet husband was willing to go on a walk with me. It was a great way to kill 2 birds with 1 stone: I still needed to get my run in and we needed to catch up on work and family stuff with one another. Mike and I walked 2.5 miles. Combined with the 1.5 miles I did downtown earlier in the evening, I'm going to declare that 4 miles of walking will equal, at least for tonight, a mile-long run. Since I made my own "30 Days, 30 Miles" commitment, I think I can do that.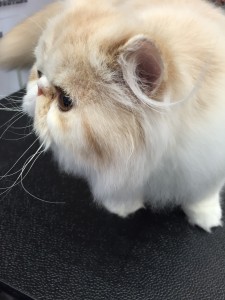 Here's a picture of Ivy at APF this past weekend, on the Wahl Clipper demo table. She did great for her first time out at a show. She's just so perfectly cute!