We went to a cat show this weekend in Atlanta. Lynn, Joel and I. We were just in Atlanta last weekend – for APF, so it was a bit deja vue-ish.  When passing by the exit to World of Coca Cola last weekend en route to APF we were talking about taking time out of our busy weekend work schedules to do some fun things. I suggested that on our cat show weekend we needed to make a point to visit World of Coca Cola.
We left Friday, checked into the hotel in Buford where we left C2 and Ivy, and then made the trek into the big city for a visit to the soda pop tourist attraction. I'm glad we di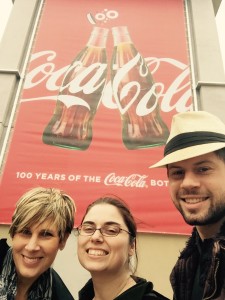 d this. Even though I've been to World of Coca Cola before, it has been awhile, the previous visit well before I was smack in the middle of a cat empire and the beginnings of a blossoming Chubbs Bars domain. I loved the reminders, as we ventured through the retelling of the Coca Cola story, that protecting the secret recipe of an amazing product despite the schemes of many to take it from you is the right thing to do. I was inspired to persevere and steady on.
As we made our way through the attraction, we laughed and joked about the tour that would one day retell the making of the original Chubbs Bar and how much it would parallel the invention by pharmacist John Pemberton of what would later become a fizzy beverage sold in every corner of the world. I get all rejuvenated and inspired by true stories like Pemberton's. They remind me of what is possible.
The cat show we attended yesterday and today also reminded me of what is possible. A sweet kitty named C2 that ended up at my salon over 7 years ago in a state of major disarray and fearfulness earned her Grand Premier title on Saturday afternoon, making her a 1 ½-show grand. At 12 ½ yrs of age – this is a feat accomplished by few.
I took C2, whose full name is Steeplechase Lahtis Sweet Chloe to her very first show last February mainly just to fill the other half of the cage I got for Cotn Hill's Petunia that I wanted to grand. Both cats were Opens at that show in February 2014. Petunia granded the first day but had to stay in the ring on day 2 to finish up getting her 6 rings in for a Premier title before she could claim her Grand Premier title. My little "cage stuffer" cat, C2, came away from that show with 60 of the 75 points needed to earn a Grand Premier title. Petunia was her competition. This was a pleasant and unexpected surprise indeed.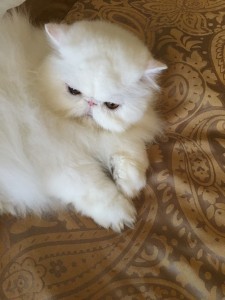 Thirteen months later, C2 was at another show acting as official "cage stuffer" and companion to my new kitten from Australia, Trazarra I've Been Travelin'. Going in to the show yesterday I hoped that C2 would be able to earn those remaining 15 points needed to grand. I'm pleased to say that she got those 15 points plus a spare by the end of the first day. I continued to show her today, netting a total of 34 points for the weekend – 94 points total. She only needed 75 to grand. So I'd say it was a good weekend. Considering the age of this cat and how she came to be mine, she is an excellent reminder to me that yes, anything is possible and hard work does pay off.
I am pleased to say that I got my run in every night this weekend, no matter how late it was, how tired I was, or how full was my belly. I ran a mile no matter. Even tonight after I arrived home, I got 3.5 miles in as I enjoyed the mid-70s evening full of crisp air and a beautiful sunrise.
I love the settled feeling of accomplishments. A new Grand Premier. An unbroken commitment to run a mile each day for 30 days. And so many other significant and business-building connections and transactions built over a weekend full of cat hair, coca cola, and good times.
Press on, my friends. Press on. Anything is possible.